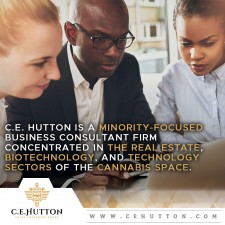 A minority-owned and operated company, C. E. Hutton LLC launched its new website on Feb. 1, 2018, in observation of Black History Month. The company offers entrepreneurs and small to mid-size companies in the cannabis and hemp industries access to a multitude of business development and management services.
Denver, CO, February 5, 2018 (Newswire.com) - According to History.com, Americans have celebrated Black History Month annually since President Gerald Ford first recognized the month in 1976, but the origins of Black History Month began much earlier. In 1926, the Study of African American Life and History led by Carter G. Woodson sponsored National Negro Week which was eventually extended to a full month.
C. E. Hutton plans to honor Black History Month by strategically launching its new website on Feb. 1, 2018. The company made its official debut in the legal cannabis industry after acquiring several leading minority-owned companies, including MIPR Holdings LLC founded by Khadijah Adams in 2014 and The GreenStreet Academy™ founded in June 2017.
C. E. Hutton is a business development and management company that helps entrepreneurs and small- to mid-size companies acquire or even retain customers. The company offers business and marketing planning, strategic planning, high-level retainer consulting, market research reports, project-based consulting and company registration.
The mission of the company is to aspire, enrich and empower businesses that exemplify ethical growth and longevity. Their vision is to help level the playing field for minorities seeking entrance or expansion in the legal cannabis and hemp industries. Although the company is not exclusive to minorities, they pride themselves on being inclusive to all communities recognizing and exploring the true strength that diversity brings to our global society. C. E. Hutton's core values are built on the foundation of Faith, Integrity and Trust (FIT) which is exemplified by their actions of true empowerment, knowledge and inclusion.
Additionally, C. E. Hutton has created Legacy Partners 5280 LP venture fund and plans to allocate funds directly into minority-owned companies within the real estate, biotechnology and technology sectors of the industry.
The culture of C. E. Hutton is collaborative, trustworthy and engaging. They are driven by being innovative, poised and progressive while being challenging in a way that inspires competence. They are deliberate, transparent, supportive, congruent and passionate. Their most distinctive competitive advantage is their industry reach and network capabilities. Their team is comprised of individuals who are credible, well-known and have excellent reputations in the cannabis industry. The cannabis industry is quickly growing and C. E. Hutton is prepared to help minorities compete in this growing industry.
For more information about the company and to see its new website, visit http://cehutton.com.
As America celebrates Black History Month and remembers the many great African-American leaders who paved the way forward for minorities today, C. E. Hutton intends to launch its company and embolden minority groups by encouraging TRUE diversity and embracing full inclusion while inspiring these groups to take their next steps in the cannabis and hemp industries.
For media or press inquiries, please contact media relations liaison Dana Blickensderfer at dana@cehutton.com
About C. E. Hutton LLC
Founded in June 2017, C. E. Hutton is a Colorado-based limited liability company that offers a variety of business development and management support services, along with merchant, financial and investment services to entrepreneurs and small to mid-size ancillary companies within the legal cannabis and hemp industries. 
For more information, go to www.cehutton.com
Source: C.E. Hutton